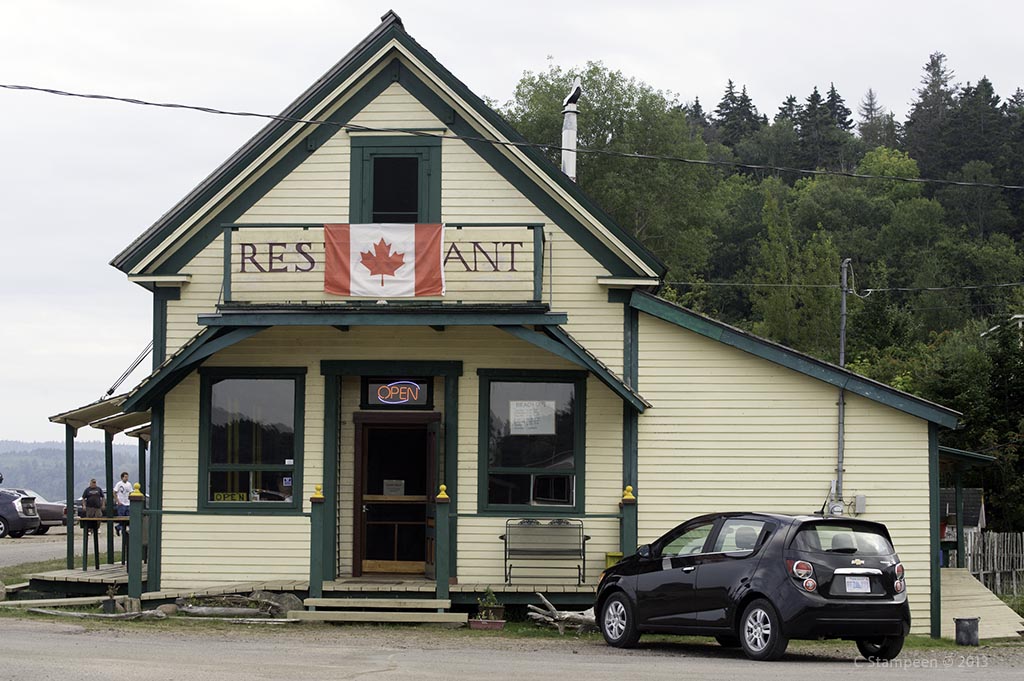 If you are visiting Spencer's Island, whether to set up camp or spend a day on the beach, if you are hungry and not looking to make your own meal, you're covered! The Beach Café is conveniently located next to both beach and campground.
It's Maritime diner fare and decor: seafood, burgers and fried foods, sandwiches, red-checked table cloths.  Typically, I tend to shy away from fried foods — you taste one deep-fried thing, you've pretty much tasted them all, and who actually feels better when done?  However, based on my experience with a fish burger elsewhere in the province, I decided to try a cup of chowder and aforementioned fish burger. Blair had a large bowl of chowder and tried a Mary Celeste beverage.

Beach Café, Spencer's Island
So…fish burger. If this conjures up a vision of a McDonald's (or other fast food) fish burger, take that notion, throw it on the floor, stomp on it and kick it out the door.  Here, the fish is fresh from the sea (this is a neighbourhood of working fishing villages!) and freshly cooked.  It is battered and fried, but this does nothing to disguise the delectable fish inside. When I bit into it, I was surprised about how much fish there was and how little actual batter. The fish itself was cooked perfectly and was not overwhelmed by the cooking process. The only way this could have been any better would have been to class up the burger bun, which was just a plain bun – no complaints, just a note.
Blair declared that the seafood chowder had more lobster in it than any other chowder we had yet eaten in the province. It was very seafood-laden and was very good.  I found it a tad salty (note that I am more sensitive than most to this), but Blair thought it perfect and once he commented on the amount of lobster in the chowder, it made sense, as lobster tastes salty to me.
Blair also decided to get into the "spirit" of the area with a Mary Celeste, the name of the mysterious ghost ship that was built on this very beach and the name of an alcoholic beverage at the Beach Café.  He gave it a thumbs up.
Note that this is a cash-only establishment, taxes are included in the prices shown on the menu, and this year, they are closed on Mondays. Service is very friendly and we will come back. The washrooms for the restaurant are shared with the campground and are across the road, but are very clean.
Signs make this place very easy to find.