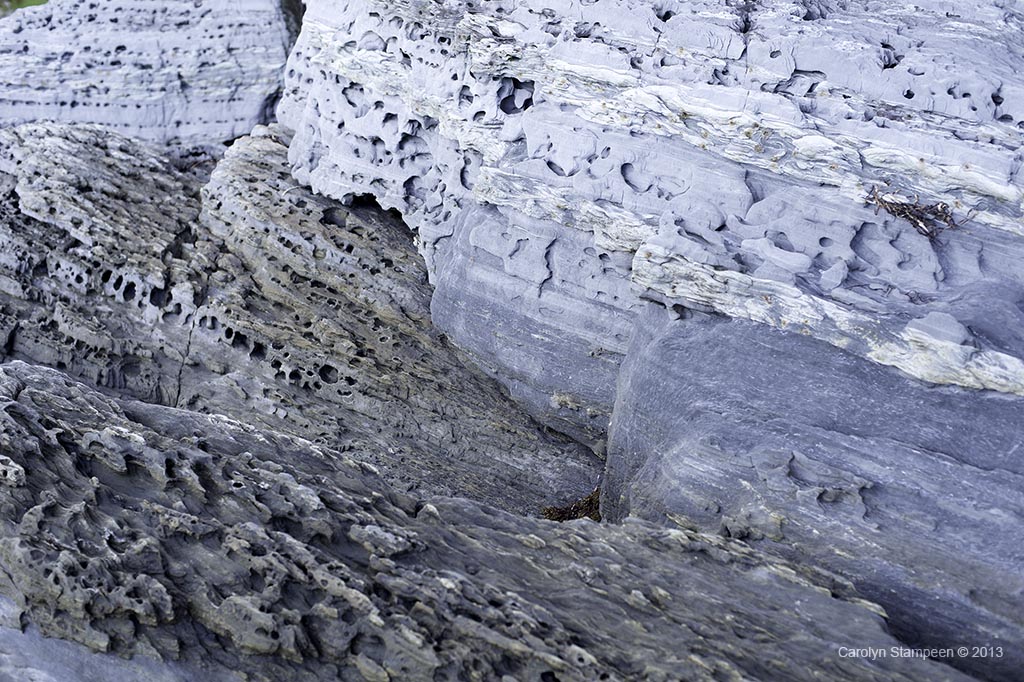 One of the fun things about our visit to the South Shore was our stay with a friend in Prospect.  We helped him solve a few mysteries, like why his computer monitor wouldn't stay asleep and why he couldn't find some photography spots he knew existed but which remained elusive. After having lunch in Lunenburg, our friend mentioned a name that sounded intriguing: Blue Rocks. Doesn't that sound like an interesting place to visit? Yep.
Blue Rocks is a charming little fishing village not far from Lunenburg. We happened here at low tide, which turns out to be the best time if you'd like to photograph some amazing geology. The little harbour was empty of water and as we drove by, the rocks compelled us to stop and get closer.  They were amazing — in places they looked more like wood than rocks. Further into the harbour, wearing a skirt of yellow seaweed, were the rocks shown above: blue!
Proceeding farther down the coast, we reached the end of the road, with a fishing wharf, boats and more amazing rocks.  If you would like to do some kayaking, there is a rental place here as well. It looks to be an amazing place to explore on the water.
So the mystery of blue rocks was solved and it was all in the tide.
We zigzagged up through the little town to find a road wandering in our general original direction.  We still hadn't solved another of the mysteries: a red fishing shack.  Our friend had seen a photograph that credited the location as Blue Rocks but none of his searches to date had revealed it and nothing we had seen so far fit the bill. Nothing like having visiting friends to inspire some extra daring navigating narrow country roads and dirt roads! We were deciding how much farther to go in on one particular road, as it was getting rather rough, when to the left I saw a break in some trees and saw a red shack standing in water!  That was it. Another mystery solved. The photo hadn't actually been taken in Blue Rocks, but in another little community close by.
Blue Rocks is here: