After spending the day at Port Royal, we stopped in Annapolis Royal for supper. Annapolis Royal is the location of Fort Anne and hosts a main street filled with shops, cafés and bistros catering to the seasonal tourists. As I'm always looking for a good beer, I was in search of  Ye Old Towne Pub. Signs outside of town note it is located directly across from the wharf, but we missed it on the first drive by as it's set back from the street.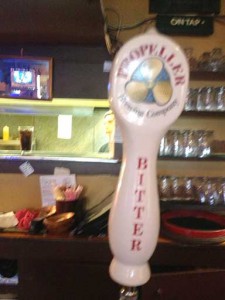 I was pleasantly surprised to see Propeller Bitter on tap, so I ordered one while considering what to eat. As usual, I'm always searching for true local flavour, so sampling one of Nova Scotia's best microbreweries on tap is always a pleasure. Still searching for Propeller Porter on tap anywhere, so if any readers out there know where this can be found, please post a reply at the bottom of this blog entry. Muchos gracias!
I ended up getting the fish and clams special that evening. It came with the typical tasty coleslaw, but what I liked most of all was that the fried clams were done to perfection – lightly battered and not overly cooked, so they turned out deliciosly tender and not greasy. Carolyn's scallops were cooked to perfection as well. Lots of scallops for the price of the meal – an amazing value.
Below is the Halifax brewery for Propeller – I love the logo on the side of their building.